*Note: I did not write all this- my dad did. On this talk page you will find various articles on my various performances on pinball over the years since I began playing. Some of the details are not accurate, and this seems more like a staple for me to improve my pinball skills. As such, an official "Joshua Henderson" article might surface.- Joshua Henderson
Edit
Joshua Henderson at age 8, attends Pinball Competition Pinball at the Zoo 2006
Edit
Kalamazoo, Michigan April 2006 Joshua plays on the Big Hurt Pinball machine and participates in a youth pinball tournament. This is Joshua Hendersons first pinball competition and first competition outside his home State of Illinois.
Joshua Henderson at age 8, rides the "Little Dipper" rollercoaster at Kiddieland Amusement Park Melrose Park, Illinois
Edit
Melrose Park, Illinois.....June 6, 2006 Joshua Henderson rides a wooded roller coaster at Kiddieland. My father keeps telling me the world is changing and that I need to enjoy riding these older wooded rollercoaster rides cause some day there will not be a Kiddieland. I also drove past Stern Manufacturing that makes pinball machines. I like carnivals, rollercoasters and pinball machines.
I think I am captivated by flashing lights.
I like the carnival lights at night, music and animations.
I played the simpsons pinball game here and scored very high, signed by name and had fun.
I can not imagine a day in the future without Kiddieland. I can not imagaine a day without pinball.

I have been going to Kiddieland since I was 4 years old. I like the rides for the kids. I enjoy riding the rides. I encourage everyone to take the family to Kiddieland.
I used to call the Gallion "fast boat" I got it right this time.
Joshua Henderson at age 8, attends Pinball Competition Chicago PinExpo 2006
Edit
Chicago, Illinois October 2006 Joshua Henderson attends pinball youth tournament to play on Zizzle pinball machines and participates in local pinball youth tournament. I played on a smaller pinball machine and it was much smaller than what I am used to playing. I want to play with the big boys one day and win money and a trophy.
Joshua Henderson at age 9, attends Pinball Competition Pinball at the Zoo 2007
Edit
Kalamazoo, Michigan April 2007 Joshua plays on Super mario brothers pinball machine qualifying as the number one youth qualifier and places third in the youth pinball tournament
Joshua Henderson at age 9, attends Pinball Competition Chicago PinExpo 2007
Edit
Chicago, Illinois October 2007 Joshua Henderson places third in youth pinball tournament. There was a prize for a playingfield from Sterm manufacturing for Wheel of Fortune, I wanted to WIN this, I am going to set my sights on winning a pinball machine.
Joshua Henderson at age 10, attends Pinball Competition Pinball at the Zoo 2008, Joshua Henderson identifed as possible child pinball prodigy
Edit

Kalamazoo, Michigan APril 2008 Joshua Henderson qualifies number one in youth pinball playing on Tales of the Crypt and places fourth in youth tournament. It was seen that Joshua jumped over the rope to play in the qualifiers with two drain balls in a round for the finals.
Joshua Hendersons' father Mark was approached by a Open Tournament pinball player to indicate that Joshua has a skill set that was advanced for his age and that Joshua should consider attending PAPA 11 in Pittsburg, PA to see if he can place in the top three finishes. "There is something that this kid has that is unlike anything elses I have seen in a boy his age. I know with time he is going to be a top dog and great competitor in the future of pinball. If he wants to play, let him, keep it fun and watch the trophies.....good luck" My dad thought that I broke something at the tournament.
Joshua Henderson at age 10, placed Third at PAPA 11, Pittsburg, PA 2008
Edit
Pittsburg, PA August 2008 Joshua Henderson an up and coming junior pinball wizard from Plainfield, Illinois finished third in this year PAPA tournament held during the week of August 14, 2008 near Pittsburg, PA. Joshua Henderson at age 10, beat Ethan Blonder in the semi-finals play only to lose to Ethan in the finals. Players in the Juniors Division must be no older than 16 years of age, as of the last day of the tournament. After three hours of competitive play, Joshua won a third place award, some cash and a place in the history books at age 10. Joshua has five more years to win this most highly sought after title "Junior World Pinball Champion".
The most important part of competing was to know that both Zak Sharpe and Joshua Sharpe stopped and watched me play in the finals. Thank you for your support for a fellow Illinois Pinball Player. Count me as the futre of pinball some day winning "Tommy-Style."
Joshua Henderson wins first place in the Youth Division at Heartland Pinball and Arcade Supershow 2008 At age 11
Edit
==
September 19-20, 2008: Heartland Pinball and Arcade Supershow at Herrin Civic Center 101 S 16th St in Herrin, Illinois hosted a 4th annual Pinball and Arcade Supershow. Joshua Henderson at age 11 won first place in the pinball youth division. Joshua also won a playoff spot in the finals among must older and more experienced players. One of his scores among the four pinball machines in the quarter finals proved to be the highest score when compared against the other three pinpall competitors in his group. His remaining scores were not high enough to continue the competition, however Joshua continues to demonstrate his skills with the silverball and his attitude that pinball is "FUN."Heartland Pinball and Arcade Supershow

This tournament of September 20, 2010 eanred Joshua Henderson his very first IFPA open tournament point. I eanred this point and it is anyones' guess as to how far I can go. I am a kid that likes pinball and I am pretty good at it too.
Joshua Henderson wins first place in the Michigan Open Pinball Tournament 2008 Edit
Joshua Henderson' on August 2nd, 2008, won a trophy and a pinball title by winning first place in the youth division at the Michigan Open Pinball Tournament Michigan Pinballheld at Marvin's Mechanical Museum LINK Joshua played a pinball game titled "The Simpsons Pinball Party" manufactured by Stern Manufacturing, Melrose Park, Illinois. STERNPINBALL

Joshua had be practicing at the local Chuckee Cheese LINKpizza family resturants for several days prior to the tournament. Joshua said, "My personal best score on this pinball machine was 54,000,000, however every day is a challenge when the conditions of the playing field change." Joshua's score in the tournament ranged from 36,000,000 to 3,000,000. The final round of competitive play was marked when both competitors each experienced two drain balls.

Following the tournament Joshua Henderson placed his initials JOS on two pinball machines at Marvins'. Joshua recommends everyone to visit Marvins near Farmington Hills, Michigan to see the museum, oddities, experience vintage coin games and to play pinball.
Junior Pinball Wizard Joshua Henderson places first place in Texas Pinball Tournament 2008 Edit
The Texas Pinball Festival is the lone star state's largest pinball & gameroom show, the Texas Pinball Festival. TEXAS PINBALL FESTIVAL The 2008 Texas Pinball Festival was being held the weekend of March 14th-16th in Grapevine, Texas at the Hilton DFW Lakes Executive Conference Center , next to Grapevine Mills Mall. Joshua Henderson at age 10, won the first place trophy along with a Zizzle LLC Priates of the Caribbean "at Worlds End" kids pinball machine.

Joshua won the kids tournament with of score near 50,000,00 on a pinball machine named Wheel of Fortune">' by Stern Manufacturing STERN MANUFACTURING With first place trophy in hand and the pinball machine won, Joshua continued playing pinball machines scoring his highest on Monster Bash with a score of over 380,000,000. Monster Bash LINK has a wizard mode and once Joshua earned the wizard mode on the playing field he considered the game beat.
Overall, Joshua continues to encourage all kids to put your video games down and try playing electro-mechanical pinball machines because it is FUN.
Joshua Henderson wins first place pinball juniors at Chicagos' Pinball Expo 2008
Edit
October 5, 2008 Wheeling , Illinois
Joshua Henderson was unstoppable this year at Pinball Expo 2008 as a junior pinball wizard. Last year, Joshua finished third place in this competition at age 10. This year at age 11 with a little more practice and experience Joshua posted the number one qualifing score for juniors on a Stern Manufactured pinball game named Shrek at 103,000,000. The finals seen competition at its finist when Andrew Rosa II, son of Andy Rosa: class A pinball player, battled head to head in a three game pinball brawl and battle. Andrew at age 8, won the first game by a wide margin, Joshua won the second by a very small margin. The tournament was best 2 of three games. Joshua Henderson after finding his zone put at an amazing 102,500,000 on the digital display for his third and final game, just hundreds of points short of his number one qualifying round score.
==
Both juniors recieved trophies, playingfield toys from Stern, backglass inserts and free entries for next years PAPA tournament held near Pittsburg, PA.
Joshua Henderson may have won the juniors' tournament but the big surprise was delivered by Andrew Rosa II at age 8, for posting high scores for his age. Andrew has all the skills necesary for him to compete, place and win junior tournaments in the coming years. Hats off to both boys for being Junior Pinball Wizards and for demonstrating competitive pinball tournament play and sportsmanship.
Special thanks to Trent Augustine, tournaments organizers and Stern manufacturing.
Midwest Gaming Classic 2008 Junior Pinball Wizard Champion : Joshua Henderson
Edit
March 30, 2008
Oconowac, Wisconsin was the venue that Joshua Henderson won another first place win as a junior pinball wizard in 2008. Starting out as the number one qualifier at age 10, Joshua had to compete head to head in a one on one final junior pinball tournament brawl. The final game choosen between the competitors was Viper: Instead of steel balls, this pinball game uses soft yellow flourescent colored balls. The game was manufactured with blacklights so the balls glow when multi-ball is earned. Joshua came up from a nearly 20 million score difference on his last and final ball to finally earn the top score and win the tournament. Joshua said, " it took me a little time to get the timing necessary to play with these lighter and much faster pinballs." Overall, Joshua Henderson conintues to prove his skills in electro-mechnical pinball games worthy of carrying the title Junior Pinball Wizard.
The 2008 Midwest Gaming Classic had a record setting year in both number of attendees and arcade machines at the show for 2008. For the first year ever, the number of attendees exceeded the 2,000 mark and there were over 100 machines at the show.MIDWEST GAMING CLASSIC
Joshua Henderson wins first place in the Junior Division at Heartland Pinball and Arcade Supershow 2008
Edit
Herrin, Illinois Spetember 2008 Joshua Henderson wins first place in youth tournament. I like pinball, pinball is fin and winning is great. I keep improving my game and I see myself competing with the expert players in a few years. Joshua Henderson Picture Link Heartland in one of my favorite pinball shows and tournament due to the show catering to the kids playing pinball. Pinball is real and it is in your face, unlike video games. I thank all the show organizers for including KIDS in the schedule and recommend any future show and tournament to include the KIDS, the future of pinball. Joshua Henderson
Gameworks-IFPA Chicago Pinball Championship - Dec 12th-14th, 2008: Joshua Henderson at age (11), finishes 7th against World Class A Pinball Players
Edit
Gameworks-IFPA Chicago Pinball Championship - Dec 12th-14th, 2008: Joshua Henderson at age (11), finishes 7th against World Class A Pinball Players One of the highlights for the first sanctioned IFPA pinball tournament held at Gameworks Schaumburg, Illinois was Junior World Pinball Champion: Joshua Henderson. Joshuas' aunt Cathy, Crystal Lake, Illinois, listened to the radio Saturday to learn that there was some sort of Pinball Tournament being held at Gameworks, Schaumburg, Illinois. She called Joshuas' mother and asked if he was going. The choice was not difficult. It was going to Brookfield Zoo and a locally rated Drive in, Diners and Dives or the tournament......Joshua wanted to go to the tournament. After calling Gameworks and talking to the manager Jim, we were told that , Yes, Joshua Henderson, could compete with the Big Boys, however his qualification would have to happen before 9:00 PM. Joshua practiced on his personal Stern ELVIS pinball machine , putting up an amazing score of 110,000,000 on his first ball to say he was ready. Once on site, Joshua warmed up with two games and them proceeded to put up two entries to place him as a number 5 qualifier. With 16 positions, Joshua left the tournament on Saturday with confidence he would be in the tournament.
On Sunday, Joshua returned with a number 10 qualifying position. Joshua warmed up on the second floor of Gameworks on a Stern pinball machine named Sopranos. What was most important to Joshua was winning the boat multi-ball, hitting "jackpots" and winning "Party at the Bing" to show his mother that he can trap, point and aim the pinball for his choice of shots and bonuses. He called out all of his shots out loud. The tournament began and Joshua met his first opponent: The father of Pinball, Roger C Sharpe. Joshua easily won back to back games to win 2-0 against Roger. The audience watched with eyes wided opened. After the shanking of hands, Joshua met,Richard Davis his next opponent and won back to back games again. The audience reaction went from eyes wide opened to mouth wide open. Joshua was unstoppable. His next opponent was Trent Augustine. Joshua had Trent on the ropes spliting the first two games one to one on Batman and Nascar. Trent rallied on Nascar down by 10,000,000 points. Trent won multiball on Nascar and scored a 5,000,000 bonus and stopped play once he pasted Joshua's score. The last and final game was on Sterns' Family Guy. The scores went back and forth. Joshua' last and final ball started the Crazy Chris mode, but Joshua stopped play. Instead of resting, Joshua attempted to transfer the pinball from one flipper to the other and LOST the ball........ Down by over 15,000,000 points and with his last and final ball, Trent Augustine, rated the 5th player in the world, calmly rallied back as only a professional player could and beat Joshua Henderson. After watching Trents' score increase during ten minutes of play, Joshua proclaimed, "HE GOT ME." when Trent passed his score during his own Crazy Chris mode. Trent advanced to the quarter finals. Trent finished fourth in the overall tournament. Trent proved on the two last games that professionals never giveup on the last ball since concentration and shear determination allows one to continue even in adverse odds to win even when down by 15,000,000 points. All games were set with professional pinball tournament settings including, no extra balls, and the outlane setting difficulty:Hard.
Joshua Henderson, placing seventh in this IFPA tournament, may have not won a cash prize or trophy, demonstrated that he has the skill level to compete with the Big Boys. Joshua is looking forward to meeting his most admired professional pinball players: Joshua Sharpe and Zak Sharpe in a Class A Professional Pinball tournament. At age 11, he may have to wait a few years to play against either brother in a Class A tournament and maybe a few more years to win, Joshua Henderson is certainly the future among professional pinball players. Joshua won not only valuable IFPA points for the tournament along with a gameworks card, T-shirt and backglass, Joshua walked away with respect and his attitude that he did his best among much older and more experienced players. Special thanks to Brian Mathews and Gameworks.
Gameworks-IFPA Columbus, Ohio Pinball Championship - FEB 14th-15th, 2009: Joshua Henderson at age (11), finishes 4th against World Class A Pinball Players
Edit
Joshua Henderson secures a fourth place among class A professional players in a head to head competitive pinball competition. Joshua continues to surprise and marvel professional players with his skill with the silver ball. Joshua demonstrated his abilities by qualifying as the number one qualifier up to 2 hours prior to the start of the tournament finals on Sunday FEB 15, just missing an opportunity to win a $400 playingfield. Joshua won $50, a trophy, 2(two) one hour Gameworks playing cards, a translight, and a t-shirt. Inaddition, Joshua continues to earn pinball world points.
Scores Saturday Night Soprano's Josh Henderson 121,133,810 Aaron Page 73,895,060 Aaron Cooke 62,167,730 Trent Augestein 49,608,890 Andy Rosa 48,295,140 Josh Sharpe 40,249,720 Ben Patterson 35,588,440 Mitchell Roth 34,439,440 Richard Davis 30,310,960 Brian Sheppard 28,947,560

High Roller Casino Josh Henderson 491,721,400 Andy Rosa 374,062,670 Aaron Page 289,417,050 Trent Augestein 204,552,710 Brian Sheppard 198,353,480 Tom Lauriviere 175,911,400 Josh Sharpe 163,098,030 Zach Sharpe 157,067,090 Richard Davis 138,488,160 Karl Osborn 133,540,200

Simpsons Pinball Party Josh Sharpe 43,707,890 Trent Augestein 36,945,340 Andy Rosa 30,400,880 Aaron Page 29,639,698 Richard Williams 12,990,520 Brian Sheppard 10,317,690 Zach Sharpe 6,542,040 Josh Henderson 6,200,600 Richard Davis 5,367,280 Mark Henderson 4,349,850

NASCAR Andy Rosa 85,899,350 Russ Crane 67,798,250 Trent Augestein 59,574,360 Josh Sharpe 49,627,110 Zach Sharpe 48,088,450 Josh Henderson 46,706,460 Richard Davis 39,930,080 Aaron Page 32,283,810 Mark Henderson 29,775,760 Brian Sheppard 27,832,130

Total: 1 Josh Henderson 362 2 Andy Rosa 358 3 Josh Sharpe 347 4 Trent Augestein 343 5 Aaron Page 339 6 Brian Sheppard 321 7 Zach Sharpe 319 8 Richard Davis 318 9 Mark Henderson 308 10 Aaron Cooke 308 11 Tom Lauriviere 304 12 Russ Crane 301 13 James Herrick 294 14 Mitchell Roth 289 15 Paul Bluman 282 16 Teresa Roth 281 17 Brian Erard 275 18 Matt McClung 248 19 Sharon Fickes 217 20 Brian Fulcher 195 21 Will Smelser 192 22 Ben Patterson 149 23 Karl Osborn 149 24 Richard Williams 147 25 John Cochran 143 26 Brad Mohler 132 27 Erin Fischer 128 28 Jim Farley 73 29 Ian Port 73 30 Alex Stewart 72 31 Mitch Huber 70 32 Jennifer Miller 69 33 Dale Cox 65 34 David Williams 63 35 Evan Smith 60

FINALS 1st place - Zach Sharpe 2nd place - Trent Augenstein 3rd place - Andy Rosa 4th place - Josh Henderson
Gameworks Schaumburg, Illinois - Feb 21st and 22nd, 2009 gets one of the first deliveries of 24TM pinball machine manufactured by Stern
Edit
STERN RELEASES 24TM PINBALL MACHINE

February 4, 2009 - Jack Bauer is back, but this time in Stern Pinball's new 24™ pinball machine. Designed by Steve Ritchie and Stern's engineering team, Stern Pinball takes FOX's hit television show and turns it into one fast-paced pinball machine that will excite both operators and homeowners.
The 24™ pinball machine incorporates both action and storyline elements from the 24™ television show, which is now in its 7th season. The new season began on January 11, and is shown Mondays at 9PM EST on FOX.
The 24™ pinball contains original speech by Mary Lynn Rajskub, who plays Chloe on the television show. The pinball also offers speech from the television show, as spoken by Jack (Kiefer Sutherland) and Chloe.
The 24™ pinball machine playfield features: 1. a Suitcase that holds and releases pinballs for multi-ball play; 2. a Sniper House that opens to reveal a bullet-spraying terrorist; 3. an exploding Safe House that one can shoot the pinball into; 4. several single Sniper Drop Targets that can both obscure and free up playfield shots; 5. and lots of multi-ball action.
Pinball Hall of Fame artist Kevin O'Connor created the artwork, and Ken Hale did the sound.
Gary Stern says, "24™ is the hottest show on television right now, and our game lives up to its reputation. 24™ is both challenging to the expert player and easy to understand by the casual player. We are very proud of this game."
The 24™ pinball machine will begin shipping in February 2009.
Joshua Henderson was on of the first best of world pinball players to play 24TM at Gameworks in Schaumburg, Illinois On Saturday Feb 21, Joshua place at 93 million score on 24TM. On Sunday,Joshua placed over 230 millions score on 24TM. Joshua likes 24 TM pinball machine and encourages everyone to play it.
CP Pinball South Roxana, Illinois- February 23, 2009,Joshua Henderson participates in another pinball tournament in 2009
Edit
Joshua Henderson made trip to a pinball museum called CP Pinball in South Roxana, Illinois. CP PINBALL This museum is filled with well maintained pinball machines by efforts of Chuck Sanderson and company. Joshua participated in a mini one day tournament and had a pinball blast. This tournament featured a simple pairing which the player with the best of 2 games of three would get a win and be paired with others. Joshua did not understand that you should have picked his strongest games to play, after winning several straight head to head players, the word was out as to which game to avoid playing with Joshua. Joshua scored an amazing tournament score of 299,000,000 on Sorpanos and was happy to sign his name as grand champion however the competition proved to tough for Joshua when playing top 50 and top 25 world rated pinball players. Following his participation, he spent the last remaining hours playing Medevil Madness saying it is the best interactive pinball game I have played. This tournament participation adds points to Joshuas' world standings.
Texas Pinball Grapevine, Texas - March 23-15, 2009: Joshua Henderson wins First Place in Kids, Bump N Win Pinball Tournament and Third Place in Class B Texas Open Tournament
Edit

Joshua Henderson, the junior pinball wizard, still only 11 years old, continues to demonstrate his skill by winning two trophys, a Kings of Steel pinball machine and a CSI backglass signed by Gary Stern of Stern Manufacturing http://www.sternpinball.com/simpsons.shtml STERNPINBALL] at the Texas State Pinball Championship.."TEXASPINBALL The competition for Joshua this year was more difficult since Joshua is now competing in multiple tournaments. The first day of competition on friday saw Joshu Henderson with his partner TJ from Arkansaw win head to head games in the team competition. Joshua met and played against former NBA basketball player Todd MacCulloch in the partners pairing and won. ESPN was on hand to film Todd and his love of pinball. The final game TJ and Joshua lost however, second place among professionals is a good standing. TJ can be seen on the ESPN tape. That night , Joshua put up a score on CSI of over 40,000,000. Wide open mouths and eyes saw Joshua continue to score well. Joshua says that his scoring is directly related to having FUN and knowing the following: rule sets, game stragety, tilt levels and sparing the nugging. On Saturday, Joshua won the Kings of Steels Pinball Machine and first place kids-junior trophy. Gene Cunningham of Illinois Pinball helped transport this pinball machine from Texas to Illinois where it sits in Joshua' house. Joshua then placed third in the class B tournament. The interesting part of this tournament was that once Joshua won his goals set for himself, he preferred to be seen playing pinball on the games set on free play rather than winning more trophies that weekend!
Joshua Henderson Places second at Midwest Gaming Pinball Tournament March 2009
Edit
Oconowac, Wisconsin March 2009 Joshua Henderson places second in Youth pinball tournament. Yes, my father told me to practice on the Open Tournament pinball game by Stern called CSI but I did not. I tilted all three balls and lost. I had no patiences and was not too happy but that is pinball. Be carefaul of touchy tilts in the future. I was the number one qualifier by like a wide margin, but qualifiers need to convert to winning which counts.
Joshua Henderson Pinball Wizard get his first YOUTUBE Video March 2009
Edit
Oconowac, Wisconsin.....March 2009 Joshua Henderson gets his first you tube video. I think I am special. I know I like pinball but I am different. I can playpinball alot better than most kids and some adults. My scores in youth tournaments are in outerspace.
YOUTUBE LINK JOSHUA HENDERSON PINBALL WIZARD
Joshua Henderson at age 11, attends Pinball Competition Pinball at the Zoo 2009, Joshua Henderson finishes second
Edit
Kalamazoo, Michigan APril 2009
Joshua Henderson qualifies number one in youth pinball playing on No Fear. The final game had Joshua and Andy Rosa Junior scoring both in excess of 1.6 billion points for the finals. The final position was determined by 20,000 points.

These two kids battled the most competitive game score in Pinball at the Zoo history. Andy Rosa the tournament chairman was impressed and atonished over just how close these two kids were. Joshua Henderson started from 300 million on his last and final ball and came within 20,000 points of winning. Joshua brought his "A" game and was playing his best. Regardless of the finish, the ability to come this close means both these kids have a future in pinball...never give up
Rocky Mountain Pinball Show: No Quarters needed April 24,25 and 26, 2009: Joshua Henderson wins First Place in the Youth Division and First Place in Parent -Child Tournament
Edit
.."PINBALLSHOWDOWN Joshua traveling to Colorado secures a first place in the youth division at the Rcoky Mountain Pinball Show. This is Joshua' second year at this wonderful tournament and he made it special by winning first place in the youth division.
This year, the number of children and youth participants was overwhelming. Success goes to the organizaers to continue to develop kid and youth pinball participation. Joshua said, This first place trophy will be my admission ticket into the mile high club...............The tournament was held at the Jefferson County Fairgrounds near Golden, Colorado with an altitude of over 5,280 feet above sea level.
My father and I competed in the Parent-Child tournament and may I say that games where desided with a few as 50,000 points. I congradulate by father for carrying me on several games especially SHREK. I do not know how he can beat my scores at time but I was beatable at this tournament and my father helped us win. Team work does make a difference and I thank him for his contribution to success.
I also thank the show organizers for including kids in the tournament, the future of pinball.
Joshua Henderson ranks 153 rd among Ranked World Pinball Players on May 1, 2009 at age 11
Edit
May 1, 2009 Plainfield, Illinois .... Joshua Henderson continues to add points to his world pinball point standings by competing in adult ranked tournaments when playing youth tournaments. .."JOSHUAHENDERSON In short of one year , Joshua Henderson starting at age 10, has surged to within 53 wizards of breaking the 100 player ranking mark. Joshua said, My goal is to be in the top 100 before I reach my 13th birthday, if I reach it earier, I will be pleased since I am competing against much older and more experienced players. Joshua competes in child and youth tournaments however none of his achievements and places award him points for the world ranking system. "I earn points for participating in the tournament, but right now pinball is too much fun to worry about my point standings other than I know it is a big deal. Once I win a tournament, I want to Free Play on games brought to the tournament by pinball players like me. I get caught up in the excitement of playing games I rarely see or play at arcades, bowling alleys or venues so when all the other competitive pinball players are chilling out waiting for thier turn to qualify, I smile and keep playing as much pinball as possible. I am a kid, do you expect me to waiting or play pinball?
At age 11, Joshua continues to focus his time and effect in practing pinball for fun. Joshua said of his last tournament, " I told my father that something is happening to me: my heart is beginning to race, I get warm and start to sweat." Joshua is practicing for the next up coming Gameworks-IFPA Chicago Pinball Championship on May 23, 24, and 25 in Schaumburg, Illinois. Joshua said, the good news is that there are no other games to distract my attention for pinball at Gameworks. Joshua will compete with other players on Ripleys', Nascar, Sopranos, NBA, 24 and family guy. I know my strengths and weakness but practice helps. At times I was Grand Champion on Family guy, 24 Sopranos and Ripleys'. I lose on Nascar, however I learned a few tricks since then and my game has gotten better: if you know what I mean when the digital matrix reads "Good Thinking" when using the left flipper. I plan to enter a few qualifiers on Friday and Saturday in hopes of qualifying in the top 10 for Sundays' head to head tournament. I know my previous scores do not get me qualified or a trophy however if anyone is taking notes my Best on Ripleys' is 56 Million, Nascar 40 million, Sopranos 300 Million, Family Guy 156 million and like 224 million on 24 and only 15 million on NBA. For the tournament I plan to use my new glasses since I have poor vision without glasses.
The best that I can hope is that more and more players that are new to pinball and the tournament show up to demonstrate thier skill with the silver ball. I do not own any of these games, however every day I see a few new players at Gameworks and that is exciting especially when kids say, "mommy..daddy what is this....and they say it is a pinball machine." I want to continue to be an advocate for good clean fun with pinball. One my last visit my father talked with a 82 year old gentleman that played my credits on Sopranos last month with my fathers encouragement, he play my 5 credits and his best was just under 3 million. He was last seen playing Sorpanos this week on his own nickle with a smile and twinkle in his eye. His posture changed when playing when he lifted his right hand up and snaped his fingers just before he earned a replay and the knocker went off........that's pinball!
Joshua Henderson Gameworks-IFPA Tournament of Champions Schaumburg, Illinois - MAY 22th-24th, 2009 qualified fourth, and places 7th Edit
== Gameworks-IFPA Tournament of Champions Schaumburg, Illinois - MAY 22th-24th, 2009: Joshua Henderson at age (11), Joshua Henderson plays themed pinball machines manufacturereed by Stern: Sopranos, Family guy, 24 and NBA against world ranked pinball players placing in seventh 7th. ==
Part I As of late Friday May 22, Joshua was holding his own with the number one qualifying position that evening. Joshua stated, the qualification is important however, most players are just getting around to adjusting to playingfield conditions and many of the world class players are playing conversative until the finals. All games are set up for tournament play. Joshua feels confident that his scores will improve on Saturday and by early Sunday his goal is to be in the TOP 10 pinball playing qualifiers for Sundays' tournament. I want to finish in the top 10, if I am in the top 5 great, if I am in the top 3 super. I recognize that although I am playing against top pinball players, it will be several years before I win a major tournament, but that is one of my goals and at age 11, I have a long way to go.
Just as important as qualifying are the world pinball points awarded for participating, qualifying and finishing.
Part II As of Saturday afternoon May 23, Joshua Henderson was the number two qualifier behind Zak Sharp with both Josh Sharp and Trent Augustine posting thier respective pending scores. Joshua Henderson scored an amazing 190 million (or so) on 24 when compared to the remaining group below 90 million: 40 million on Sopranos. Thirty some million on family guy and 18 plus million on NBA. Joshua Henderson left the qualifying in the afternoon confident that he could be one of the top ten qualifiers. All of these pinball players are getting zoned in on each game. I do not expect my score on 24 to stand to the finals however, I am proud that guys have a number to shoot for and it is mine!! I own 24 as grand champion for at least a little while in a IFPA tournament, the surprise will be on Sunday when I see if my scores placed me among the top 10 qualifiers.
==
As far as the single elimination finals, I am going to do my best and with 5 trophies, I want to be standing next to Josh or Zak or Trent or any other major player to tell them that one day I will win first place in a IFPA class A tournament. This afteronoon, I plan to go home on the computer, play with my dog and do a little basketball to relax and look forward to the war and fun on Sunday since I have nothing to lose but to prove myself a worthy competitor having fun with Pinball.
Part III I got to the tournament with 2 hours remaining with qualifications. My dad gave me three tickets and the first game on Sopranos was a little less than 3 million, I looked at my dad and he said to roll it again, and the second game I put up 89,000,000 in tournament mode just under Josh sharpes' 99,980,000 and below Zak sharpes 133 million. I used the thord ticket on Family guy and improved my score to 36 million well below Josh Sharpe 64 million and Zak's 73 million. My 182 million on 24 still was standing follwed by 91 million by Trent, 78 million by Zak and 76 million by Josh Sharpe. I was happy with my 18 million on NBA below Zaks' 21 million and Josh Sharpes 25 million. With family guy being my weakest link I still qualified in top "5", in fact I was fourth above Josh Sharpe. Final qualifying standings Trent Augustine 359 Zach Sharpe 354 Jason Wiedrick 347 JOSHUA HENDERSON 344 Josh Sharpe 343 Andy ROsa 328 Dereck Fugate 320 Sam Spero 319 Jim Shired 311 Cory carl 304
Since I was in the fourth qualifying position, I had to win only one player to win a trophy. The competion started and I looked and discovered that the winner of Josh Sharpes seeding would play ME. WOW, I am going to play head to head against Josh Sharpe at age 11. I was very very excited to show him my "A" game and earn some respect cause I look up to him for his personal and profesional achievements in pinball. In fact, Josh Sharpe congradulated me on my 89 million on Sopranos following my qualification round making me feel very important and one of the fellow pinball competitors, I liked that.
Well, things did not work out and Joshua Sharpe does not always win. Dave Hegge, a former pinball wizard in the 80's at age 48 climbed his way from 13th position to compete with Joshua Sharpe head to head. The first game was on 24. both players scored 1.3 million on his first ball, Dave earned 17 million on his second and Joshua Sharpe did 38 million shooting a very audiable COME ON. Dave rallied big with a final score of 78 million and Josh earned only 2 million and some change to finalize his lost at 41 million . Down one game play went to Family guy. Joshu Sharpe 12.2 million on first ball, Dave 9.4 million on first ball, but lost the ball with the crazy chris mode, Josh sharpe scored just under 16 million when the kickout from the miniballing field proved too much to handle in a center drain. Dave hegge with his right foot firmly placed on the front right leg with his hands moving very fast in an almost nervous fashion hit the skill shot from the start of the second ball but it failed to register. He ended up scoring 15,441,200 on his second ball HEAD TO HEAD WITH JOSH. Josh could only gain 7 million on his third ball to end the game at 22,461,190 million. Again with his right foot on the front right leg and his hands moving continuously, the 48 year old Dave hegge finalized his score of 28,461,190 over Josh sharpe .
I can not believe this? Joshua Sharpe lost, I wanted to play him and now I lost my chance, so I looked at Dave and his has big hair like Tommy, he played with his hands like Tommy, well if he beat Josh he MUST BE TOMMY. I told my dad I am going to loose to TOMMY. he said that is not Tommy, he looks like tommy but he is not Tommy. Then he must be his brother, I said! Well, I said I can not play Tommy cause I will loss.
The first game NBA, Joshua Henderson started the game out right with 1.5 million on his first ball, Dave started with just above 300 thousand. The second ball gave Josh trouble with a center drain after scoring a little over 2 million, Dave slowing scored just above eight hundred thousand, Joshua with has last and final ball finished nba with only 2.643 million allowing dave to win with 3.099 million. A very tight game
The second game was on Sopranos, Joshua scored 1 million on his first ball losing the ball to an air shot at the boat, Dave scored 12 million, Joshua scored 3 million on his second ball and proclaimed he lost to Tommy, Dave pulled the punger on the second ball and scored the sill shot and lost the ball in a very upsetting drain adding a million to his score to 13.3 million. Joshua said, he lost the ball, Joshua pulled the punger back and repeated the same failure as with the other two balls, hitting the drop target on sopranos and finalized the score at 3.7 million.
Dave hegge continued play and finished third overall in the tournament. Joshua encouraged Dave to continue the fight.
Finalized Place Standings (current world rankings)
First Trent Augustine (6) Second Zach Sharpe (7) Third Dave Hegge (265) Fourth Jason Wiedrick (41) Fifth Andy Rosa (14) Sixth Dereck Fugate (50) Seventh JOSHUA HENDERSON (154) Eight Joe Katz (1313)
Joshuas' torunament score on 24 of over 183,000,000 million stood throughout the tournament
This tournament seen alot of games determined by three games and with fewer than one million points seperating the players.
After the tournament Dave Hegge said he won Chicago expo 3 and 5 and was a top champion many years ago. He said we was very active in playing pinball for over 33 years including winning IFPA2 (1992) - Dave Hegge. He has 33 years of pinball playing and professional experiences compared to Joshuas 3 years.....Dave said he WAS Tommy....... With 24 games in his basement he view ""Joshua as the FUTURE OF PINBALL"" and exchanged emails to get Joshua to play pinball with him. So 11 year old Joshua Henderson finished 7th among world class players and he was right, he did play Tommy......... After the tournament ended and winners and players were congradulated, the Henderson family went to Cheese Burgers in Paradise in Lombard, Illinois. Joshua said he wishes and wished he could do that tournament again since he did not bring his "A" game cause he was nervous of Tommy-ie Dave Hegge and he expected to play Josh Sharpe. Just then the music background in the resturant played the Who song- Pinball wizard. I said it was divine intervention and his destiny. At age 11, Joshua Henderson has a way to go to wait and play Joshua Sharpe however I think he will be ready to bring his "A" game when it happens making the first head to head against Joshua Sharpe much more special than it would have been had it been this day.
Joshua Henderson ranks 126 among Ranked World Pinball Players on May 25, 2009 at age 11
Edit
May 25, 2009 Plainfield, Illinois .... Joshua Henderson inches closer and closer to the top 100 rank in world pinball player rankings . .."JOSHUAHENDERSON I am getting closer every tournament to that top 100 mark. I want to achieve this before I reach 13, but I am learning everyday more and more special ball handling techniques with the flippers to gain that extra edge in dealing with the competition. I have new glasses and plan to add special lenses to my glasses along with using music. I have to keep everything in perspective cause pinball still has to be fun.
Joshua Henderson places third in Pinball Plus monthly tournament, St Paul, Minnessota, June 7, 2009
Edit
June 7, 2009 St Paul Minnestoa, MN,
Joshua placed third among Minnessota adult pinball players to win valuable pinball points. Joshua took a trip to the Land of 10,000 lakes to play pinball at a local tournament. He placed third in the open tournament, particpated in the EM tournmaent and placed first in a Bump and Run Spiderman 2 ball tournament winning sixteen dollars.

I want to support Derek Fugate and pinball plus on its IFPA sanctioned events.
I visted Mall of America, ate a jucy lucy at Matt's Bar and grill, stopped at the Popcorn shop, played Big Bang Bar at SS billards in Hopkins, MN and left having a wonderful and full weekend of fun.
Joshua also visited Nickelodium Universe inside of Mall of America. I normally go to bed at 9:00PM so staying up near midnight was challenging.
I left that I did my best at age 11 along with posting an amazing 351 million on Twi-light zone in tournament play exceeding my personal best of 168 million.
I support Paul Madison for winning, and encourage everyone to keep having Fun, Chris, Tina and everyone. Keep it up.
Joshua Henderson attends Northwest Pinball Show, Seattle, Washington, June 12-June 14,2009
Edit
June 12,2009 Joshua Henderson heads to the extreme Northwest part of the United States to play pinball. After putting up three qualifying rounds at age 11, Joshua stated, qaulifying is great however the most difficult game was twilight zone set on a very difficult setting with posts missing. Joshua had fun and participated and learned one of the most important skills for a professional pinball player (a dead flipper bounce) Joshua was seen near many pinball machines playing on wizard modes. Joshua thnaks those players that helped him perform the dead flipper bounce and continues to practice it everyday.
Joshua Henderson attends Michigan Open Pinball Tournament June 20,2009 and wins first place in Juniors and third place in Electro-mechancial pinball tournament.
Edit
Farmington Hills, Michigan June 20,2009 Sucess came twice for Joshua henderson at age 11 when he first won the junior Michigan pinball Open title playing on Funhouse with a winning score over 11 million. Next When traveling to the Michigan Open, Joshua read a book called Pinball Wizardry. One of the games that discussed pinball trick by the aurther was El Dorado. Joshua won his second trophy on El Dorado in the electro-mechnical division. Joshua kept pinball exciting and fun. After two trophies, Joshua proclaimed that his job was completed and played the wonderful mechanical devices at Marvins.
June 26-June28, 2009 Joshua Henderson places second in open-B divison and first place along with three other players in the Pin Brawl team-Wicked Shimmy.Pin Maine-ia .
Edit
Saco/Biddleman, Maine June 26-June 28, 2009 Joshua Henderson at age 11 did his best to understand the pinball golf events and scoring. Once learning the scoring system, Joshua learned that he still had a shot at a trophy. Once in B class, Joshua rallied with a final 8 wins and 1 loss record to make him the number one qualifier for B class. Joshua finished with a second place trophy. Joshua Video LINK Trent Augustine recruited Joshua Henderson to be part of the defending team pin brawl "Wicked Shimmy" Trent said, "Joshua the team needs you." in no less of a special and spectacular performance of professionalism, skills and focus, Joshua played his heart out by bringing his "A" game and earned his place on the team and the respect of his competitors by putting up BIG Scores. During the Pin-Brawl one of the competitors said "the LITTLE kid is going to be trouble" Trouble he was, Joshua scored highest scores on several machines and finalized his appearance with a score of just over 399 thousand on Mata Hari. The other two team players contributed with big scores and the "Wicked Shimmy" won first place defending its championship pinball brawl position. Joshua Henderson at age 11 thanks Trent Augustine for "believing in me" to help a team win. Most of the players watching or playing Joshua said he won on the last ball of many pinball games demonstrating his strength to never give up. Other players saw Joshuas' shear determination when playing side by side with fellow team player and team captin:Trent Augustine. Everyone wishes Joshua well on his goal to be a top 100 pinball ranked player in the world and perform his A game at PAPA in August.
VIDEO LINK JOSHUA HENDERSON FIRST PLACE WICKED SHIMMY
Joshua Henderson ranks 109 among Ranked World Pinball Players on July 1 , 2009 at age 11
Edit
July 1, 2009 Plainfield, Illinois .... Step by step and inch by inch Joshua Henderson inches closer and closer to the top 100 rank in world pinball player rankings . .."JOSHUAHENDERSON I think it is possible to top 100 mark this month of July. I think it is now possible to have this ranking before PAPA and my 12th birthday. This would me reach my goal a full year ahead of time. For a full three week before PAPA I plan to exercise daily and play pinball to continue to improve my skills. With this division including 16 year olds, I will be competing against other professional players that maybe as old as 5 years older than me.
Joshua Henderson plans to attend three remining pinball events before PAPA August 13-August 16, 2009
Edit
July 3, 2009 Plainfield, Illinois, Joshua Henderson will be traveling to St Paul, MN, Santa Clara, CA and Lyons, Colorado in his last and final attempt to earn the necessary pinball points to be among the top 100 ranked pinball players in the world at age 11. I am going to be traveling to three pinball events for my summer vacation to get some more points. Although I have my goal to be in the top 100, the rankings are not static, they change based on weekly tournament results.
I am going to do my best in the next three weeks however pinball still has to be FUN, so if I am short on qualifying for a tournament, do not be surprised if I am playing the free games going after wizard modes rather than putting up more entries for the qualifying. At age 11, I am still my own little man and determine what games I will play at an event on free play when compared to overall entries. Everyone must understand that playing in both a junior tournament and open a class is difficult at times. With a bedtime of 9:00 PM it makes it much more difficult for me to compete. I am doing my best to have FUN and look forward to being that professional pinball ambassador to the sport. Once I reach 12 years old, I will be actively seeking sponsers to continue the sport.
Joshua Henderson places second in Pinball Plus monthly tournament, St Paul, Minnessota, July 5, 2009
Edit
July 5, 2009 St Paul Minnestoa, MN, Joshua placed second among Minnessota adult pinball players to win valuable pinball points.
Joshua Henderson wins first place at Califronia Extreme July 11,12 2009 at age 11 and qualified 13th among world class pinball players
Edit
July 12, 2009 Santa Clara, California.... Joshua Henderson on his family vacation wins first place at California Extreme. Joshua was pleased to win the juniors tournament among up and coming competitors. I played in the modern, electromechnical and solid state contests however with over 400 games on free play I was constantly looking to play other games to keep the perspective that pinball is FUN. I qualified 13th in the modern class earning pinball points however, my mind was on the trophy I can WIN, not on the trophies I will win in the future. The modern class was dominated by top 25 world class players. I watched the professional players to understand that one day I will compete head to head with these PIN professionals. I also thank my father for helping the staff which allowed at least one player to put up qualifying scores . My tournament experience was finished with a trip to playland.
Joshua Henderson gets scared stiff at Playland not-at-the-beach in El Cirreto, California on July 13,2009 at age 11
Edit
Scared Stiff , a pinball machine manufactured by Williams in 1996 is one of the more popular pinball machines made.Scared Stiff Internet Pinball Database. This williams pinball machine requires the pinball player to have the necessary skill to point, shot and complete 6 tales of terror on the pinball playingfield. These tales of terror are:
1) Stiff in the Coffin multiball (3 ball panic unleashed) -This is the 'regular' multiball of the game. The left ramp lights lock in the left loop. Lock 3 balls to start multiball. When multiball starts, both ramps are lit for jackpot. Either one can be hit at first for a jackpot (500,000 points), and then jackpots must be alternated (If you hit the left jackpot, then only the right one will be lit, then hit the right one and only the left will be lit). However, hitting an unlit ramp raises the jackpot by 10k. Multiball ends when you have less than two balls left in play.
2) Night of the Leapers (You'll jump out of your skin) -There are 3 leaper targets (2 on either side of the left ramp, 1 on the left side of the right ramp). Once you hit each one once, the tale is collected. However, hitting any leaper enough times starts Leaper Mania, in which you have to hit a certain number of leapers (starts at 5) within the time limit to light an Extra Ball (or 250K if you have already gotten the extra ball from this). Each leaper squished scores 100k.
3) Return of the Deadheads (See the Family Horrors) -The deadheads are located in the rollover lanes at the top. Light the three lanes and the tale will be awarded. Each dead head also scores points, starting at 25k and increasing by 25k each time one is collected.
4) Terror From the Crate (Chilling 2-ball Multiball) -Hit the crate enough times to light this (Starts at 4 the first time, increases by 4 for subsequent times). The last hit will send the ball into the crate and start 2-ball. During 2-ball play just keep entering the crate for jackpots (250,000 points).

5) The Monster's Lab (Electifying Action) -X number of hits (20 to start on ours) in the bumpers starts this. Once started the bumpers become worth 10k.
6) Eyes of the Boney Beast (Beware the Hypnotic Stare) -Hit the left ramp to spot one eye. After 3 ramps, the game awards the tale and the left ramp becomes worth points.
Once all 6 tales have been started, "It is time to get Scared Stiff". Hit the crate to start it up. The game will go through the animations, and the the ball will be kicked out. The Stiff-O-Meter will light up in the middle of the playfield. The object is to advance the stiff-o-meter all the way to the top. There are 10 levels on the stiff-o-meter. To advance the stiff-o-meter, alternating shots must be made to either ramp, and then to the crate (First shot ramp, 2nd crate, 3rd ramp, 4th crate etc...). Each shot scores points, 250k plus 50k more for each subsequent shot. The last shot (Scared Stiff) must be made into the crate. Once this is done it starts Monster Multiball, a 4-ball Multiball in which all 3 jackpots are lit (Both ramps and the Crate) and are worth 1 million points. Plus, 5 million points are awarded just for starting Monster Multiball. Monster Multiball ends when there are less then 2 balls left.
Joshua at age 11 got to level 10 on the stiff o meter .
View the original Williams promotional video get to scared stiff for FUN [1]
Joshua Henderson places fifth in Lyons, Colorado ,mile high monthly pinball tournament, July 16, 2009
Edit
July 16, 2009 Lyons, Colorado, Joshua placed fifth among adult pinball players to win valuable pinball points. Playing in Colorado was FUN. I enjoyed all the competition, played on many games new to me and lost my game on Party Zone when my cousin asked for a kiss good bye when playing, I will not repeat that during piball play. Every location in the country has different game not common to the other. Lyons Pinball was no exception and there were no dissapointments. If you are traveling through colorado near Boulder, I recommend you stop, visit and play pinball or attend one of the monthly league nights, you can consider your pinball play the price of admission into the mile high club within pinball. Lyons Classic Pinball
Joshua Henderson Finshes second at age 11 at PAPA 12 August 13-August 16, 2009 and participates in the "A" Division
Edit
August 13-August 16, 2009 Carnegie, PA, Joshua attends the PAPA Tournament, Professional and Ametuer Pinball Association Tournament and places Second in the Junior Tournament. At Papa 12, I finished second in Juniors. I had trouble with a pinball game named Circus Voltaire where as there was a different type of rubber on the flippers that created a dead bounce.
I qualified second so the competition was strong against fifteen and sixteen year old competitors. In the finals, I rocked like Tommy on Simpsons Pinball Party, failed miserably on Circus and had everything lit on Whirlwind only to be calculating the scores in my head to understand that you do not do that.
I got second in youth, participated in the "A "class cause my dad told me so, I played two entries and walked away. The excitement of PAPA in being in one place with sooooo many machines in perfect shap, I have to admit that I was interested in getting wizard modes on some games not in the tournament than compete head to head in the "A" divison. Yes , I know that first place is a lot of money, a trophy, WPPR points and lot of respect, but right now money is of no meaning to me cause my father pays for everything, so I admit that my placement was nothing short of a disappointment for my dad but hell I rocked on alot of games that did not count and I did what I wanted, I had FUN.

I humored my father by playing a split finger with him, I knew what I was doing but he could not get the flip left and flip right from going right and left when it was his turn to flip. Kids rule. We did get some prizes.
Joshua Henderson wins first place in the Junior Division at Heartland Pinball and Arcade Supershow 2009 and places fifth in the professional pinball tournament
Edit
September 19-20, 2009: Heartland Pinball and Arcade Supershow at Herrin Civic Center 101 S 16th St in Herrin, Illinois hosted a 5th annual Pinball and Arcade Supershow. Joshua Henderson at age 12 won first place in the pinball Junior division for 12-16 year olds and placed fifth in the professional open tournament. Wow, I played all the way until midnight coming within a player of the top four. I had to play Zak Sharpe and lost by a bumper. I was tired, did not believe I could ever win and very nervous. I need to overcome my fear and understand that kids can beat adults too and one day I will beat Zak and many other professional open pinball tournament players one day, today was not that day......Keep Playing Pinball "Heartland Pinball and Arcade Supershow
Gameworks Chicago Tournament of Champions for Pinball : Joshua Henderson places sixth among professional Open Pinball Players
Edit
October 11, 2009 Schaumburg, Illinois was the stage once again that Joshua Henderson at age 12 could bring his "A" game against world ranked pinball players. Joshua was one of the top qualifiers, with high pinball scores on Stern 24, and Sopranos. Joshua finished 6th and earned 7.26 valuable WPPR points. I keep playing and playing and one day I will be at the top of the ladder of an Open Pinball Tournament, holding the first place trophy. My goal, is to come in first place before I am thirteen years old....I am going to prove this to the world. Joshua Henderson can often be seen playing pinball at Gameworks in Schaumburg, Illinois practicing his "A" game. Everyone is invited to the next pinball tournament. GAMEWORKS LINK
Joshua Henderson ranks 100th among Ranked World Pinball Players on October 11, 2009 at age 12
Edit
October 11, 2009 Plainfield, Illinois .... World Pinball Points are awarded by the IFPA.International Flipper Pinball Assocication to pinball players that participate and finish in sanctioned pinball tournaments. More points are awarded the higher one finishes in the tournament. Joshua Henderson has been accumulating points all year long for his pinball rankings based on his participation and finishes in pinball tournaments. Joshua has earned a mile stone in his life at age 12 years old. Joshua is now ranked in the top 100 in the world of ranked pinball players......."JOSHUAHENDERSON I completed this milestone before I reached 13 years old, I just have to prove to everyone I am real, and continue by efforts in head to head pinball playing.
Chicago Pinball Expo Flip Out Tournament 2009: Joshua Henderson places 10th in Open Tournament, 3 rd in Classic Tournament, and 1 st Place in Youth Pinball Tournament
Edit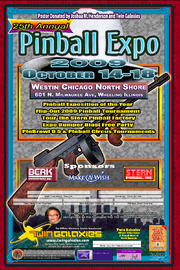 Wheeling, Illinois October 18, 2009....Joshua Henderson competes in three pinball tournaments and earns the rank, file and status as a junior pinball wizard among his piers. Chicago Pinball Expo
==
PINBALL EXPO LINK
Joshua Henderson was unstoppable bringing his "A" game to the competition and his local fan base and his hometown of Plainfield and his state of Illinois. I played my heart out to earn WPPR points. I earned a total of 21.29 points this week ranking me 80th in the world. I wanted to win these points to be invited to my first IFPA world pinball tournament in 2010. I want to represent the United State of America. One of Joshuas' accomplishments for the tournament was being the number one qualifier for the Classic tournament with multiple high scores while rolling the score several times on at least one classic electro mechancial game: Rock Star.
Joshua Henderson commissioned a pinball poster for this tournament, his first pinball poster celebrating his milestone as being the youngest ranked pinball player in the world among the top 100 ranked pinball players at age 12 years old.

Make A Wish received a donated signed poster from Joshua Henderson that was auctioned at a charity event that evening. The poster was auction in excess of $300 dollars for the benifit of Make A Wish Foundation.
I rocked at the Chicago Pinball Expo, I expect based on my finishes, I will be eligible to be invited to play in the IFPA 7 as a 12 year in 2010.
I was the number one qualifier in the Classics. I rolled a few machines over and I must admit that my attention and focus to the game was brought out by my mother watching me play. Yes, I get nervous, but I wanted to show that with only four tickets left in my hand, that I got three of the top scores. I know I am getting better every day and continue to thank everyone in the pinball community that has helped me reach these milestones. Yes I knew I was featured on the Pinball Expo Poster for 2009, but I did not expect my performance to match my pciture. Anyone can achieve thier goal and vision. I believe and I believe.
Joshua Henderson Particpates in end of the year 2009 Pinball Tournament at D and D Amusements Dayton, Ohio
Edit
Dayton, Ohio December 13, 2009, Joshua Henderson participates in an end of the year pinball tournament at D and D Amusements in Dayton, Ohio. I participated in four tournaments, the first was a pinball mini race around the world. I finished third, but I played the next pinball machine early and ruined my chances to win. The next was the kids tournament where as I rocked on Godzilla and finished first. The classic tournament I played one game on each qualifying pinball machine to participate. The open tournament allowed me to finish 10th.
The best part of this tournament was playing with two other fellow junior pinball players at the tournament: Andy Rosa Junior, son of the more famous Andy Rosa World Champion Pinball Player and Kyle Davis, son of Richard Davis, tournament chariman, pinball player and owner of D and D Amusements. Pinball is fun however at age 12 I am amused with kids my age and following my pinball playing, I just wanted to run around and play tag with these kids. I told my dad that I did not bring my "A" game however he said play pinball and have FUN. Running around was more important to me that performing my best....I am still a kid , I had fun.
PRESS RELEASE January 1, 2010: The 7th annual IFPA World Pinball Championship is scheduled for May 21-23, 2010 at the Minnesota Pinball Hall of Fame, featuring 64 of the world's greatest pinball players from over a dozen countries, the IFPA World Pinball Championship is the most prestigious event in competitive pinball.
Edit
World Pinball Player Rankings as of January 1st, 2010 are used to determine 61 out of the 64 qualifiers for the event. Three additional spots are available through IFPA Satellite events held prior to IFPA 7. Joshua Henderson becomes the youngest player to qualify for participation in the IFPA at age 12 from Plainfield, Illinois representing the USA. Joshua Henderson commented, " Wow, I am playing with the big boys of pinball in the world. This tournament has one and only one game: WIN and have fun. I want to finish in the top 10 but this is only my goal. This will be my first IFPA event and I am up against professional players that are seasoned tournament pinball players from around the world. I am going to bring my "A" game and look forward to winning."
The IFPA competitive sessions requires pinball players to play consistant over a period of several days on different machines from multiple eras. Older machine are commonly referred to as EM or Electro-Mechanical machines: these machines can be from 50-30 years old. Dot matrix machines usually were built in the 80's and 90's. The modern machines include those manufactured by Stern Pinball in Melrose Park, Illinois typical in 2000. Joshua will be playing on machine older than he is in years. I am going to do my best and I support all players in friendly competition against me: Joshua Henderson.
Joshua Henderson particpates in Gameworks -Stern Pinball Big Buck Hunter Pinball Machine Launch Party February 19, 2010
Edit
Joshua Henderson attends a Big Buck Hunter Pinball Machine Launch Party at Gameworks in Schuamburg, Illinois.
BIG BUCK PINBALL LAUNCH PARTY VIDEO Joshua Henderson can be seen on this video with his pinball glasses discussing the merits of STERN PINBALL the pinball machine Big Buck Hunter. I had fun playing BBH and participating in the launch party. I play video games too however there is nothing more real and physical than playing a pinball machine. Each and every game I play is different and unique than the previous game I just played. This type of play keeps me interested in hours of fun and enjoyment. "Buy a new stern pinball machine today and start your own party for hours of family entertainment for all ages", Joshua Henderson 12 year old.
Joshua Henderson wins first place at the Texas Pinball Festival in the kids bump n win pinball tournament 2010
Edit
Junior Pinball Wizard Joshua Henderson places first place Kids Bump N Run Pinball Tournament in Texas Pinball Tournament 2010 and first place Child parent tournament Edit
Irving, Texas...March 21, 2010 Joshua Henderson repeats his winning performances as a junior world pinball champion by winning the junior tournament first place prize. This is a third repeat performance, Joshua came in first place in 2008, 2009 and 2010. "I came to Texas one last time as a junior to do one thing, win the junior title a third time" Said Joshua Henderson. I won a Vector Pinball Machine. I participated in four other open tournaments that included the EM, Modern, Main and Classic Tournaments however I put my mind on winning the junior tournament as first and foremost doing what is commonly referred as a threepeat.
Junior Pinball Wizard Joshua Henderson places first place in Midwest Gaming Junior Pinball Tournament 2010 Edit
Brookfield, Wisconsin...March 27, 2010, Joshua Henderson wins first place in Juniors Pinball Tournament. I like this tournament because the events feature both pinball and video gaming. I am seeing more and more younger kids play in these kids tournaments and wish everyone well. This year the competition was tough and I had to hold my own after getting several drain balls. Pinbaal is part skill and part luck, a drain ball can help your competitor however when you get two drain balls you got to be managing your mental game cause you can still win one only one ball. I had several games were I had two drain balls. Playing pinball requires you to understand that after all the physical and mental preperation and skill sets required , you can still plunge the ball and end up not toughing or not flipping the ball. I walked away with first place but with great repsect for drain ball, I do not like them but they are part of Pinball and having FUN.
Joshua Henderson wins first place at Pinball at the Zoo junior pinball tournament 2010
Edit
Kalamazoo, Michigan....April 17, 2010
Joshua Henderson has earned state titles and first place pinball finishes in the Junior Pinball Tournaments throughout the county. Pinball at The Zoo has been one of the most difficult tournaments in Joshua's career to win. Since 2007 Joshua, has slowly earned his way as a 9 year old to finish, four, in 2008 he placed third at age 10 and in 2009 he placed second at age 11. This year in 2010 Joshua finished earned a first place finish.
==
Joshua has been especially fond of this tournament Pinball at the Zoo since it was first first real participation outside of Illinois as a pinball player.
He met a professional pinball player "KOZ" that identified his strengths and encouraged his father to take Joshua to PAPA in Pittsburg, PA..the rest is history.
Joshua Henderson prepares to participate in his first IFPA world pinball tournament: IFPA 7 May 19, 2010
Edit
St Paul MN-Cokato, MN ...May 19, 2010 Joshua Henderson visit Bainebrook bowl to participate in pre -IFPA pinball tournaments. Joshua played many games at this pre-IFPA tournament to prepare for the IFPA 7. "I played enough to hold my own however I am here for the IFPA 7 and bringing my "A" game so I played pinball and kept it FUN until Friday...Game Day.
Joshua Henderson visits SS Billards to prepare for IFPA World Pinball Tournament: IFPA 7 May 20, 2010
Edit
Hopkins, MN......May 20, 2010 Joshua stopped at SS Billards for a pre-IFPA pinball tournament. This place is great, there is a Big Bang Bar and new Stern Pinball Games in excellant condition. I said hi to Lloyd the owner and operator.
I placed a few 200 million plus games on one of my favorite pinball games: Spiderman and competed in a mini-tournament. I left the tournament at 9:30 PM to sleep early for the next days' tournament. I remeber playing against Sean "the Storm". He told my dad that I am good but he is still going to beat me. I placed an impressive score on Priates of the Carribian over 255 million!!!!!!, and he played his but off and yes, Joshua Henderson, a 12 year old pinball junior wizard brought out "the Storm" in Sean and he won however we became friends that night as fellow pinball enthusiasts having fun playing what we both like and enjoy: Pinball.
That night I made a promise to myself, NOT to be beaten on Pirates of the Caribbean this week at the IFPA.
Joshua Henderson at age 12 years old is among the ELITE EIGHT and finishes eighth at IFPA 7 May 23, 2010 Edit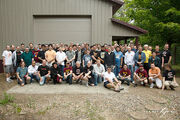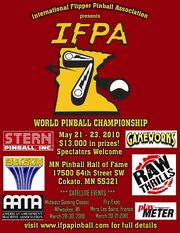 Cokato, MN....May 23, 2010 Among 64 world pinball players, Joshua Henderson at age 12 years old finishes 8th among world class pinball players. From the very beginning, Joshua Sharpe and Zak Sharpe before and during pinball play kept correcting my father watching me that when I WIN, not if I WIN the tournament. My goal was to finish as a top 10 finialist. I had no idea that finishing 8th required me to beat Joshua Sharpe in the qualifying round and on no less than Pirates of the Caribbean with a 255 million score signign my name as Grand Champion which stood for the entire tournament.

JOSHUA HENDERSON 12 year old IFPA 7 Center Blue shirt
I thank everyone in pinball that has helped me get this far in the Pinball World Rankings. Yes I beat Joshua Sharpe, however I learned a valuable lesson, do not focus on a goal short of winning. I brought my "A" game right up to the point that I secured 8th place. I played Andy Rosa to secure a second or first place finish but lost on a game that I knew little of "Lord of the Rings". I am proud of my accomplishments at age 12. Perhaps with more experience I will understand that the point of any competition is to win, I need not apoligize for thinking as a kid that I came to the IFPA 7 to have FUN. I left with a poster, money, hot sauce and most important more friends in the world.
Joshua Henderson plays pinball at Crazy Carls' home of The Michigan Classic Pinball Tournament
Edit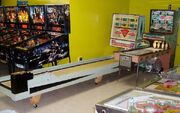 Walled Lake, Michigan....June 5, 2010
Joshua Henderson visits Crazy Carl's video store and participates in an Electro Mechanical Pinball Tournament at Walled Lake, Michigan. [CRAZY CARLS VIDEO] Electro Mechnical games are great to play and fun. This tournament was a marathon to qualify. I played pinball had fun and spent most of my time signing my name on Carl's wonderful Stern pinball machines that were not part of the tournament.
I thank a local pinball private collector "Mark" and the EM club for inviting me and my father to Marks' home for an after tournament party. Your collection is amazing, special and I thank you and other pinball collectors around the country for sharing thier games to tournament players and hosting special parties, everyone is well appreciated for thier collections.
Joshua Henderson visits and wins T-Shirt at Klassic Arcade in Gobles , Michigan June 6, 2010
Edit
After waiting for four years to visit Klassic Arcade, Joshua Henderson and his father stopped at this local arcade in Gobles, Michigan just north of the Paw Paw exit and played pinball. Joshua scored a 2 billion score on the pinball machine Tommy Klassic Arcade High Scores and earned a t-shirt, high score and picture on the website.

Arcades are becoming part of the past and history. This aracade features pinball machines and aracde games from the past. Besides games, you can quench yur thurst with soft drinks from around the country and din on some snap foods including popcorn.

Stop and visit this arcade to relive your past with your kids. This is just great family entertainment. Beat my score on Tommy and I will be impressed.
Joshua Henderson wins his First Open IFPA Tournament:First Place at CP Pinball Open Pinball Tournament, June 16, 2010
Edit
Roxana, Illinois.....June 19, 2010 First place finish is what will be his first Open Pinball Tournament career win is award to Joshua Henderson at age 12. This weekend ,Joshua Henderson, Junior Pinball Wizard was hosting the show "Are you better than a 12 year old Pinball Wizard" I won, I Won and I won. Yes, CP PINBALL is a great place , but Southern Illinois and St Louis is home to many professional Pinball players. This was my day. I qualified and had to beat four players in a one to one pinball playing head to head brawl. The final game I won on Monster Bash. This was the best fathers' day gift to give to my father, a first place finish and I had fun.
Everyone I played against was professional and had expert skills. I did not focus on placing in the top three but WINNING the tournament which I did. I understand that I can not win every tournament but anyone can accomplish your goals when you set yourself up with the expectations to come in first place. In addition to coming in first place I earned a total of 26.11 WPPR points improving my world pinball rankings.

I thank everyone for playing pinball with me, I am glad that I did not match play with two specific unnamed pinball competitive expert heros. I am not asking you to ever pass the torch to me however this day I earned first place, and a trophy. I look forward to a future one on one where as last time you where the teacher and I was the student..yupe I got schooled in pinball. Next time I will be a little older and more experienced in these matters to get you to bring your "A" game out. In the meantime I still yield to you two guys as experts with wins, trophies and accomplishments that I hope to have in the near future.
Joshua Henderson at age 12 years old is ranked 51st in the world as a Pinball Player on July 1, 2010
Edit
Plainfield, Illinois....July 1, 2010 Joshua Henderson is ranked 51st in the world. Practice paysoff. I am number 51 in the world JOSHUA HENDERSON PINBALL RANKING. I am looking forward to PAPA PAPA LINKthis year. I need to form a decision to either play in "A" class for points and money or "B" class for money along with competing in the youth tournament for a trophy and money.
August 12-August 15, 2010 will be the most challenging part of my pinball career demonstrating my talents. I am focuing on winning the Junior tournament first and foremost, I will make a decision to compete in either the A or B division, I can not compete in the C Division. I want to compete in the minitournaments and look forward to playing with some of the top players.
My goal for the last few years was to be a top 100 ranked player before my 13th birthday. I accomplished this task and feel that I have balanced fun, excitement and competition. When you come to a tournament smiling you leave the same way smiling. I kept this attitude up to keep having fun. The IFPA 8 in Europe is a longway off. If I have the sponsers, I will go and compete but doing well in school is still a top priority and school work and my education always comes first.

Wish Me Luck.
Joshua Henderson attends Michigan Open Pinball Tournament in Rochester Hills, Michigan July, 8-July 11, 2010
Edit
Rochester Hills, Michigan Oakland University Joshua Henderson plays in nightly classic pinball tournaments and playings in the Open Pinball Tournament. These games where set up very very difficult, not impossible but very challenging for more advanced players. The overall qualifying scores for the A division where compressed. This made qualifying highly competitive. You have to concentrate, eliminate bad judgement decisions, drains balls, and tilts to arrive at you final resting score. Even though the games are set up unusual, it makes it very challenging for everyone and allows for a fair and unbiased way to set the level field between pinball competitors. I like all the games I am playing ie : Spiderman, Pirates of the Carribean, Wheel of Fortune, Family Guy, Iron Man and Lord of the Rings. As of July 10, 2010 at 6:26 PM I am qualified fourth however making any advancement in these qualifying standings is going to prove very difficult....more later

Sunday Morning I was unable to qualify however I placed 8th overall behind some GIANTS in the pinball World ie Andy Rosa 12, Sean O'Niel 103, Joshua Sharpe 5, Bob Mathews 43, John Frittin 85, Mike Weiley 202. Overall, this tournament was like match play for the top 50 players in the world, I was out ranked, underage, past my bed time and learned a valuable lesson, when your over your head YIELD LEFT to free games. I am not disappointed with my play, I guess I never bother to read the rule sets for LOTR,WOF,and IM.
Overall a great time and congradulations to the Rosa family for sweeping, kids, Class B and Class A in the Michigan Open Pinball Tournaments.
Joshua Henderson practices pinball at Wisconsin Dells venues for up and coming world PAPA 13 championships
Edit
Wisconsin Dells, Wisconsin August 2, 2010..... Joshua Henderson of Plainfield, Illinois travels to Wisconsin Dells, Waterpark Capital of the World to practice pinball on several machines. I traveled with my father this week to the waterpark capital of the world and stayed at Kalahari Resort. Amongs the things I did, I played pirate golf, visted Ripleys Believe it or Not, Drove Go-Karts, Visted Wizard Quest and the Dells 4-D Theater. At Night I saw the Tommy Bartlett Water Ski show and ate at goody goody gum drops, Pizza Pub, Port Vista, and Monks. I practiced on two specific pinball games. THe first game I practice on was Terminator 2.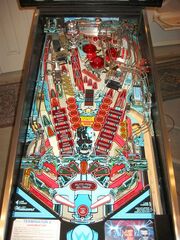 I played a few games and ended up with over 184 million and I signed my initals as JMH as the number 1 score.
The second game I play was IRON MAN at Moosejaw pizza and Dells brweing company after a few games I scored my overall highest score on Iron Man at 181 Million signing my initals as JMH as Grand Champion.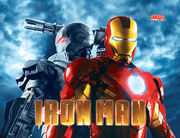 [(File:Pinball_Iron_Man.jpg|thumb]]
I am excited to practice pinball at different locations along with having FUN. The challenge with pinball is that it requires a stragety that is much different than video games. The game of play from one game to another is total ramdom and unrehearsed. The ball speed changes from one playingfield to another by how the game is inclined and set up. The playingfield can be waxed or unwaxed, tilt settings can change along with flipper response and flipper rubbers. This is a degree of unpredictability.
You can play over and over again, get high scores on one game if you play it over and over again. The challenge is to have the same level of play, playing with the machine setup differently. This is the reason to stop and visit different arcades with different pinball games. I only wish that there would be an aracade or waterpark owner willing to place as many as Five (5)or six (6) new stern pinball machines at thier venue. If anyone is listening I would recommend, Spiderman, Batman, Shrek, IronMan, Big Buck Hunter and soon to release Avatar pinball machine from the screen movie avatar.
When I prepare for a tournament I need to play as many different games as possible with various changes to the set up. I practice multi-skills with my pinball play to continuously improve my game. My father calls it Six Sigma for pinball, staying on target, reducing variation and being as consistant as possible. At age 12 I do not fully understand what he is saying other than pinball is fun and every tournament I learn something different to make me a better and better player. I have many of the advance tournament playing skills down , however I am still mastering a few expert skills which still require skill and technique, strength and stragety.

I have a stragety to prepare for the PAPA 13[ http://www.papa.org/index.php PAPA 13 ] At age 12 years old my goal is to WIN the youth tournament against players up to sixteen years old. Simutaneously I will also compete in another class that is yet undetermined (or I rather not reveal my choice at this time) Let's just say for the record that I can play for points or money. I have the points as a top 100 ranked player in the world before reaching my 13th birthday so I have achieved this milestone. I really do want a new pinball machine by Stern.
I see the following as one of the most challenging parts of my career is the up and coming younger players. I started pinball at age eight going to the local bowling alleys and beating my father at his game. I was identified as a child prodigy at age 9 with pinball. We own a few games, but my family is neither in ther business nor are operators. We are casual and tournament players for excitement and fun. There is a group of sons and duaghters of operators and owners that are slowly getting older. At age 12 I have to understand that these younger children competing against me have sometimes been playing since they could walk. I am now at the other end of the tunnel feeling what the 20 and 30 year old guys feel when they loose a game or best of 3 to me in competition. It is a possibility that I could always lose to someone younger than I am, thats okay as long as I bring my "A" game.
Once I reach age 13 years old, there are only a few youth tournaments remaining that I am eligibly to compete, including PAPA until age 16. I am already competing with the open pinball tournament players but in order to be at the level of play with these players requires both physical and mental challenges. I am up to the task and measures to someday win THAT CROWN and BELT. In the meantime I look forward to PAPA 13 recognizing that there are many great pinball players in the world. The crowning of a pinball Champion is the ability for ones skill level to adopt and change to the conditions of each playingfield and machine setup. Overall at the end of the week of August 15, 2010 there are no winners or losers, there is only a sence of accomplishment for bringing the "A" for team Joshua and other young and up and coming pinball player standing in line to be the next champion.
Joshua Henderson practices pinball at Gameworks Schaumburg, Illinois on August 7,2010 before Big World Wide Pinball Tournament
Edit
Schaumburg, Illinois August 7, 2010 Joshua Henderson will be practing pinball at Gameworks this weekend. Team Joshua is getting a bit more practice on Iron Man and a few other pinball games. I got to be in top shape for next weeks PAPA 13 tournament. Usually, one of both of my parents take me to Pinball practice on Saturdays. This is one of the first times I ever asked them to take me to: "practice". I have been keeping it kool and FUN enjoying all my playing time, when you start calling it practice I'm getting serious.....and hopefully at the end of next week I will have earned a few thousand dollars too. Most of all top pinball players, workout physically which includes, running, jogging, lifting weights, and physical agility workouts. These machines are 300 pounds and moving the machine just a little requires forearm, wrist, leg and back muscles. At 12 years old, I am no where near the level of physical play as the professionals I am chasing, however Let's just say I can hold my own.
Joshua Henderson attends PAPA 13: on August 12, 2010
Edit
Carnagie, PA August 12, 2010: Joshua Henderson registrars for Juniors Division and Class B for pinball . At The End on the first day of qualifying I am the number "1" one qualifier for Youth and Number 2 qualifier for B class. The games are set up hard but fair. I have warmed up to the playingfield conditions on the youth and the B class. I expect to do my best in the youth division this year, I am looking for that title! Third time might be a charm. With respect to B class. I expect to put up two more qualifying scores on Friday. Yes, I am a ranked player and play very well, however I am still 12 years old and there are alot of players out there that do not know how hard I have worked to get to this level. Emotionallly I am strong enough to WIN. I made a decision to play B Class. It make no difference which division and class you play as long as you play pinball. This year I am setting for a stage to do my best. My father is going to be making way for the A class. Good Luck. In the meantime I need some sleep, fluids and time gaining the necessary energy to bring my "A" game to PAPA. Good Luck to every one and drain with a smile!
Joshua Henderson WINS first place at PAPA in class B Division, a Trophy and $3,500, a second place in Juniors $250 and $50 for top qualifier
Edit
Carnegie, PA August 12-August15, 2010, Joshua Henderson becomes the youngest class B pinball competitor at age 12 to enter and win first place and $3,500. Joshua said the day started out of focus. I got to the hotel the night before at 11:00 PM after trying to help encourage a friend Kyle Davis in his attempt to qaulify for the youth tournament. I watched Aliens until 12:30PM went to bed and woke at 8:30AM. I showered, got brteakfast and came to the tournament at 9:15 to warmup. the doors were locked. We got in and there was some confusion over what and when the Juniors and Seniors were going to start.
The shedule said ten. Security was confused, so everyone started to get in at 9:45 PM. I started the Juniors after 10:00 AM and was told that I had to start the class B by registaring, practicing and starting play at 11:00 AM. Playing one tournament is difficult , but going from one playingfield to another, changing strategty, tilt settings, playingfield incline was impossible. I came second place in youth, after missing the ramp shot on Dirty Harry.

I ran from the B class after getting over 100 million and Terminator 3 to finish my final ball at Dirty Harry. I was out of breathe, my father said to stop , rest and relax but I knew I had only 5 minutes in between balls to play and that I burned up a lot of time playing Terminator 3 to 127 million making it to the semi finals. I had perhaps less than one minute to play and even less than 60 seconds. I should have placed myself squarely infront of the playingfield for Dirty Harry and rested for the maximun time of one minute and perhaps hold the ball for another minute to continue play, but once getting in front of the machine and ON THE FLY : I pulled the plunger, got the skill shot and I got multi ball but did not manage the balls appropriately, I went from 69 million to one hundred and seventy four million, just one switch from winning enough points, I placed second and congradulated Justin on his first place for the second time in a row. I then concentrated on the B class and WON.

I thank everyone for helping me get this far with this mielstone and accomplishment. I will be entering the A class next year and will do my best. This youth tournament title is the last remaining title I have not won in my career.
Joshua Henderson plays Stern test game Avatar at Gameworks Schaumburg, Illinois August 16, 2010 and signs his initals JMH as Top Score
Edit

Schaumburg, Illinois....August 16, 2010 Joshua Henderson fresh from winning nearly $4,000 dollars at PAPA 13 as a 12 year old stops at Gamesworks in Schaumburg, Illinois to play Sterns' newestpinball game Avatar on this secret test location.
Joshua Henderson signs his initials as JMH.
I want to make sure that if you see my initals I have been there and done that mostly in the midewest as Grand Champion or High Score. I enjoy playing pinball and playuing the Avatar pinball machine was no exception. I played it and signed my initals. The last launch parties I had two house or drain balls, I expect to be on top at the next launch party since I am an unstoppable teenager at age 13.
Avatar is a great game and the combination of the sounds, lights and video effects is AMAZING. If I never own this game, I certainly want to buy the blackglass since it is the best I have ever seen.
Avatar is going to be a great game for operators, home players and for tournaments. I like the sounds cause it make you feel part of the imganinery world of Avatar so play a game and go ride a banchee!

AVATAR STERN PINBALL VIDEO

Joshua Henderson Avatar SIGNING HIS NAME JMH Video Links
August 23, 2010 :Joshua Henderson visits Sternpinball to accept delivery of his NIB Sternball "Spiderman" from Tilt Amusements
Edit

August 23, 2010..............Melrose Park, Illinois....Joshua Henderson visits Sternpall to recieve delivery of his NIB Spiderman pinball machine from Tilt Amusements. Joshua Henderson stopped at Sternpinball to show off his 68 pound trophy after winning PAPA B class along with his $3,500 check. I met "THE MAN" GS: Gary Stern and played pinball on several machines including Avatar with game designer John Borg. I played Avatar with John Borg and a third party. I was last. John scored an amazing 39 million on his final and third ball claiming to only put up 3 million earlier in the day. Lucky or not I started with a score of less than 5 million on my third and final ball and accumulated enought points at 59 million to beat John, Sign my name as High Score Number 1 just under Grand Champion: GS at 75 million. Gary Stern is still Grand Champion in my book. After the gmae, tour and visit I thought that that was it, little did I know my father and mother had a plan for me and my birthday of August 22.
After the plant tour, engineering department, game room, electrical design room I was informed by Sternpinball that I will be recieving a NIB sternpinball. I ran up to a spiderman box and said you can ship this one to me, they said no you are taking delivery NOW with Tilt Amusements and Trent Augustine. NO WAY? WAY!
I was very careful in handling this machine, I wanted to save the shipping container and packing. What I really wanted to do is replace my matress cover with the Stern logo. My dog harely is not pictured however she smelled the pinball machine and box during the uncrating process.
Absolutely beautiful machine, gorgous, NIB , Brand New, never been used! In a matter of an hour or two I rocked at 535 million on easy mode. I will adjust the machine to more difficult settings in the near future.
I am now 13 years old teenage that is going to rock the world of pinball. There is one reason why I choose Spiderman above all Sternpinball games, I want to be a Super Hero.

I thank everyone that has helped me reach this milestone and accomplishement so far with pinball. Keep Flipping-Play Pinball.
August 24, 2010 :Joshua Henderson attend first day of school as a seventh grader
Edit
Next year I am in "A" class for PAPA 14, I am thinking straight "A"'s for my school work is one of my goals. After I have completed my school work and Kumon, I will practice my pinball game and techniques to bring out my "A" game for PAPA 14. I have over a year to practice and learn advanced pinball playing skills, for that game day in August 2011. I thank Bob Mathews for being the "first" A player to welcome me to the "A" team. My goal, To be the "A" champion, win $10,000 and do the check dance for everyone. I know I will have hundreds of players to compete against and professional players from around the world. It may take a few years but time is one my side, I am only 13 years old and I have been playing and watching the pinball 101 video to get me ready for that day. Buy yours todayPINBALL 101 LINK and learn from threepeat Keith!

Alternative Link PINBALLVIDEO I thank Keith and everyone else for helping me get this far with pinball. Pinball continues to be FUN. I am looking forward to showing something that no one has everseen before in pinball and having my name Joshua Henderson in lights.
September 11, 2010 :Joshua Henderson attends special film festival screening of "SPECIAL WHEN LIT". film documentary
Edit
September 11, 2010...........Chicago, Illinois Joshua Henderson attends a special presentation of "Special When Lit" a film documentary of pinball. SPECIAL WHEN LIT. I enjoyed the film it was exccellant.I say many fellow pinball tournament players. I look foward to being one of the headliners one day as a World Champion.
October 10, 2010 :Joshua Henderson practices at Gameworks Schaumburg, Illinois for upcoming Avatar launch party and Gameworks Tournament of Champions: Pinball Tournament
Edit
October 10, 2010......Schaumburg, Illinois. I stopped and visited Gameworks on Sunday to practice on four Sternpinball machines: 24, Ironman, Avatar and Family guy. I rocked. I had a 504 million on 24 signing my name as grand champion. I kept shooting for multiball, completed save the president and had NUKE jackpot. This is the highest score I ever achieved on 24, and I told my father that I want to be at the end of the Gameworks Torunament to be highest score on 24. On Ironman I placed a 98 million score, on Avatar I scored just under 60 million. On family guy I stopped at 168 million just below JLS score of 184 million. Each week I keep practicing and gain more confidence in trying advanced and professional techniques with the ball and flippers. Just a few months ago I never tried post passing the ball from one flipper to another, I am now trying this advanced professional technique in practice and I am making almost all the flipper to flipper passes. I am also slap saving balls helping get that extra ball time to imrpove my scores.
I am a teenager now and squarely need to come to grips that I am chasing top ranked npinball professionals. I want to win, get money, trophies and ranking points however I am a good player getting better and stronger everyday. Just last year I had to stop at 120 million on spiderman due to fatique, now I place games at 200 million on a day to day basis. Long playing games takes lots of time and energy to recover. My goal at the Avatar launch party is be place in the top 10, My goal for the Gameworks tournament is to placed in the top 10. Next week I will be playing at the Chicago pinball expo Flipout tournament and my goal is to win either the classics or open class.
I think that I am doing very well and I will be giving it my all at the Gameworks launch party and pinball tournament. I try to set goals and attempt to achieve these milestones in scores on a ball to ball basis. You do not win by playing to a number of the competitior but above the competitiors score. I am having FUN and I want more and more people to play pinball.
I am selling a few of my outstanding pinball games to get a new AVATAR Sternpinball! I also like Shrek. I am commissioning a pinball poster for the Chicago Flipout Tournament next week and hope that everyone likes my created pinball memorabillia.
I once again invite the public at large, friends, family and everyone to playpinball. I met a man with his 12 year old daughter and invited them to the launch party and to the tournament. I am in shock and awe for all the players and tournaments before me that I can one day stand on the podium of an IFPA tournament as number 1 or Papa or major tournament. In the past I had to earn my points for pinball by not only competiting in the juniors without earning any points, but also competing in the open classes. I give all the respect to everyone before me and those around me and those in the future to test your skills, endurance and professionalism with pinball...........drain with a smile.
JOSHUA HENDERSON WINS FIRST PLACE IN HIS SECOND OPEN IFPA SPONSERED TOURNAMENT AT GAMEWORKS SCHAUMBURG, ILLINOIS at age 13 YEAR OLD
Edit
October 17, 2010 Schaumburg, Illinois Joshua Henderson in what would be a history making event comes from the basement of dispair to munster up the focus , professionalism and master pinball skills to beat fourt top players in an OPEN IFPA snactioned Pinball Tournamnet to win FIrst Place. THe week started out great, I was focues to win the Avatar launch party that I was spooked. After qualifying number one, I was told at 9:00 Pm I had to leave the Gamework facility cause I was not 21 years of age. SOme big guys showed up looked at me and told me policilty to leave. Josh Sharpe took care of this small problem and at 10:30 I was awarded second place in the Avatar launch part. I condraduate Dan Garret on his first place win. Four things I rememebr about that night. The first thing was a second place trophy, second, a signed avatar brochure from Gary Stern, a top qualifying spot in the Tournament of champions pinball tournament and a WISH by Gary STERN, (THE MAN) to take first place in the tournament.
When I qualified, I had to beat three top players to play my respected pinball Hero Joshua Sharpe. I beat the first competitor , then Jason Warwick and Andy ROsa. I they was having to play the Pinball Hero of all : Joshua Sharpe.
I started out playing on family guy and lost. It had stewie multi ball lit , I was holding two balls on the left flipper when the left flipper collapsed and lost my balls. I did not cry, and did not complain since I knew that I could beat Joshua Sharpe head to head so I gave him that win. Then we went to 24 and I came on the third ball and beat him. He was trying to stop me. With one to one we settle on AVATAR. Josh started off first and I was second. Joshua finalized his battle win with an unbeatable final score. There was hand shaking, smiling and congradulations before I plunged my last ball, NO ONE CAN BEAT THAT SCORE!!. I heard in the audience giggling and someone said the kid can not beat Joshua score......... I focued on beating the machine, not Joshua Sharpe. I finalized the game when I was told that I could stop playing that I won. I WON and this counted! An open pinball IFPA first Place trophy and win at age 13 years old. I did it , I am a good pinball player getting better everyday and I can hold my own with the big boys of Pinball. ALl the time I thought of one person: Gary Stern.........who said "beat them all KID" I did. Thank you Gary Stern for the extra extra effort and I thank Andy Rosa for lifting me up. I thank everyone once again for helping me achieve my VISION and my goal. It is not about beating another player, of how good you are against the other player, it is how you focus on winning againt the machine.
Yes, I best Joshua Sharpe but I view my opinion is that Joshua Sharpe is a master Wizard and we both competed against the Machines and I won. I look forward to future events and future competitions. I know I can not win every tournament but this was my tournament and my focus. I have the goal to win the PAPA "A" in my lifetime. It is too early to project when I will win this Master competition, I also want to win an IFPA master torunament in my lifetime.
I wished my father was onsite when I won, but my mother was onsite encouraging me and my grandparents showed up to root me forward. At age 13 years old I can hold my own, and wish everyone to know that the KID- Pinball Mantis has made his mark on the pinball world.
I thank Gameworks in Schaumburg for allowing me to sign and autograph thier banner. Thanks to all. Joshua Henderson Junior Pinball Wizard of the world.
JOSHUA HENDERSON Plays Pinball at the 26th annual Chicago Pinball Expo and Places Top 10 in both Open and Classic Pinball Tournaments
Edit
Wheeling, Illinois October 24, 2010
I am only 13 years old and having come off a first place win at Gameworks, it was exhausting and challengin to maintina the level of performance week to week on back to back tournaments. The playingfield conditions at Chicago Pinball Expo where very very fast and the playingfields were tilted. The games were set up to make things as difficult as possible.
I qualified 13th after placing an amazing fourty something million score on Nascar at 10:30 PM. I normally go to bed at 9:00 PM but I got to the tournament a little later on Saturday morning after doing my homework and Kumon. I asked my father to go through the convention and played games with a few of my friends in the youth tournament including Andy Roasa Junior and Kyle Davis.
Okay at 13th I had a lot of wood to cut and I started against Joe Katz. The first game was Iron Man. Joe got 400,000 on his first ball with a quick drain, I drained at 700,000. The second ball of Joe was 3,400,000 and I ran a 3,000,000 on the second ball. Joe kciked but at 17,555,560 on his third ball very confident of his win. You do the math, my final ball was 3,715,240 and it was joe one to Joshua ZERO.
I had game choice or order. I chooose order, I prefered to go second. Joe choice: Big Buck Hunter. Okay, let go hunting. Joe started out at 621,500 on his first ball. I made amazing score of 25,901.340 on my first ball, Joe got to a score of 2,171,150 on his second, I added short of 5 million more to 30,188,600. Joe stopped at 3,022,040 and I did no play my third ball! Joe one, Joshua One.
Last game...you had to see it, final score Joshua 3,852,470 going first, Joe finalized his second ball stop at 1,842,810 with only 3,101,210. Making Joshua Henderson to move forward. Joe, I know this is like the fourth time you have been beaten by me, but you are a great pinball player and are getting better everyday. The problem is that I am getting better everyday too and eventually you are going to beat me in a tournament, but in the meantime you still have the skills to win a tournament.
I have to add one thing, when Joe Lost he kick a box up in the air.
Next opponents Bob Skinner Iron Man where as I tilted on the first and last ball with Bob winning at 20,837,770.
I won avatar with a 15,000,000 on my second ball which bob could not beat on this thrid, so I did not play my third ball. The final game was on Shrek: Once again I had 57,000,000 on my second ball which Bob could not beat on his third ball so I won without playing my third ball.
Next Game Jason Number 5 qualifier:
Jason won on CSI 18,746.530 to my losing 3,552,910. I won on IM at 22,480,000 to Jason 7,890,060. I didi not play mythird ball. The final was Jason third ball on Shrek 34,541,000 and my second ball on shrek at 45,376,790.
Next Game:
Mark Pierson I lost the match. Mark was focused, I won on BBH, he won on Avatar after three house balls one after another...SHt. Shrek was the final game, I had two house ball after being unglued after Avatar and finalized my third ball at 16,644,000 to his winnning 28,800,270. Congradulations to Mark

Overall, I played Joshua Sharpe along the way and tilted several times and lost to his winning score however I was close, but I did not want it bad enough. He took me out on Shrek .You have to be focused and not tired!!!! I had Josh several times however he held it together more than I did. The first Game of the Batle of the Joshs' was on CSI, Josh Sharpe was the number 4th quaifier and I was 13th battling my way up. Josh has a drain going first as 310,000. I got a drain at 412,210, second ball sjoshua hit pay dirt and got 8,371,570 and then settled at 9,777,030. I started my second ball at 8,181,850 and played shortly on my third ball. Josh Henderson one, josh Sharpe: zero. The second game was on Wheel of Fortune, josh Sharep went first, his first ball was 1,186,200. My first ball was 6,345,060. Sharpes' second ball was 18,570,050, my second ball I got 13,170,600 and had multiball light, he looked a Zak with a worried look on his face, his third ball was 23,007,110.....I got enought to go to 18,824,780 and lost a ball on a mist flip trying to get multi ball on Never didi get multiball and even worst, I never read the rulesheet for Wheel of Fortune yet. So the final game and Battle of the Joshs' was on Shrek........Josh Sharpe started with 19,071,420, I was short of his pace at 11,477,200. His second ball was only 21,420,220 looking over his left shoulder and saying something, I got up to 17,9191,820 trying to force the ball.....Joshua Sharpe with professionalism, holding together got 48,000,000. I started at 17,919,820 and stopped at 30,000,000 on another miss flip with multiball lite along with Dragon lite. Overall, I had to play longer play times for my balls but I got less points since I DID NOT USE THE MULTIPLIERS. I need to educate myself that when playing these tops ranked players that I must use the multipliers since I would have won on ball times alone but the Battle of the Joshs' was about points. I brought my "A" game, tried my hardest but failed to understand that ringing in 400,000 points on a tv mode verses 1,200,000 or 1,600,000 means that you got to play (four) times as hard and and many and it does not work that way. You Must tie the bonus multipliers together on the TV modes. I congraduated Josh Sharpe after my sad ending but in the end shook hands and left smiling. This must be said, the finals had players blowing out of the sky on high or higher scores than usual in the tournament finals including the winning perfornance of Trent. You got to save up your energy in these tournaments and I tried to hang it together, but I was whipped, tired, exhausted and yes, I pushed Shrek too much, didi not use the multipliers and ultimately I am learning what to do better the next game until the "battle of the Josh's" againt,,etc this Battle should only be reserved for use when we are playing for 1st and 2nd place. and Perhaps this was not the case on his following games I can say this, I did not expect to qualify due to the speed of game play. The faster the ball is hit on this fast playing field the faster the response you have to have. Joshua Sharp is the expert of point and shoot techniques like a surgeon. even these playingfield conditions gave everyone trouble. I congradulate Trent for Knocking the block off Avatar and Shrek by signing his initials TTA as Grand Champion. Very impressive. Trent you ruled at the Chicago Pinball Expo, I can not wait to play you head to head.
In the future, qualifying higher in the standings allows you to SAVE ENERGY. Before Playing Joshua Sharpe I had to play four matches all determined by three games. I played 12 games before Playing Josh Sharpe, I won three of these matches and lost one. When I lost to Josh Sharpe , the game was over however I still finished in the top 10 between both tournaments and YEs it is next to impossible to win back to back tournaments. That is why my focus continues to be on PAPA A in August of 2011 at age 13 I want to qualify in the top 25 in the world, however my aim is still winning other tournments between now and then.....look out the "KID" and pinball mantis is coming to a tournament in a town near you In the meantime, congradulations to everyone including new players, old players and the same. And special congradulations to Andrew Rosa Junior for winning first place in the Youth Division.
JOSHUA HENDERSON IS A TOP 50 RANKED WORLD PINBALL PLAYER IN THE WORLD
Edit
November 1, 2010 Plainfield, Illinois
Joshua Henderson reaches a milestone in Pinball history ranking in the top 50 players in the world at age 13 years old.
This is a dream come true. I am happy, pinball is fun, and I am mastering pinball playingfields, rulesheets, shot patterns and stragities when playing pinball machines. For 2011 I want to meet other pinball wizards in competition . I want to compete against the top Pinball Wizard players in the world. I want to prove to these top players that I can hold my own. Again I may have to play against these players more than once to beat them but I am not going away. Everyday I am getting stronger, quicker and faster to beat tournament machines.
I want to represent the Youth and future in Pinball and for 2011 encourage every tournament to host Youth Pinball TOurnaments to seed the return and growth of Pinball. Include the kids in every ToURNAMENT.
And if anyone is asking me what I want for Christmas .............it is a NIB Stern pinball Machine!!!!!
Keep Flipping
The Kid- Pinball Mantis
Joshua Henderson
November 15, 2010 ........Batavia, Illinois

Joshua Henderson starts to practice at Funway in Batavia, Illinois for his next Pinball Tournament. "I am having FUN and pinball is a great way to play and have fun" The competition is not easy. I just know that I can hold my own and that draining with a smile is the best way to go in these competitions. If you have three house balls you will lose, but you can always win on your last ball... Do not give up. I win on my last ball when I focus against the machine and not the competitor or player. My goal is to be a top qualifier and place in the top five among pinball players in this tournament. I am changing my stragety on Family-Shrek to increase my final score and changing what you normally do on this game is very difficult. Trent, Zak, Joshua Sharpe and others keep raising the bar higher and higher so I need to go reach the level these players and other perform against this machine on its rulesets.

I plan to reread the rule sheet , practice some interesting shots, and do one thing in competition and that is this BRING MY "A" game.
Wish Joshua Henderson Good Luck
Joshua Henderson practices at FUNWAY in Batavia , Illinois
Edit
November 27, 2010
Joshua Henderson practiced pinball at Funway in Batavia, Illinois. It is important to practice at the play of any future tournament. Practicing is my way of getting to know the surroundings, where that bathrooms is, where to eat and drink and of course Game Play of Pinball. Every machine has its own quirks. You got to plat a machine perhaps as many as fifteen time to master it. There is not enough time in qualifying to play 100 games so you have to master a few games, and work on improving your score on the pinball games you are weak at. Overall, practing at anything help you keep imrpoving your score.
I practice on all the lastest and greatest Stern Pinball Machines. It is important to know that I am very prepared for this tournament and will bring my "A" game when it is time to shine.
Joshua Henderson Is ranked top 13TH player in the USA and top 25th pinball player in the world at age 14 years old
Edit
November 1, 2011
Joshua Henderson continues to lay the gorundwork necessary to be a top 10 ranked pinball player in the USA. 2012 is going to be the start of my three (3 ) year quest to get the top 10 ranked player title of all USA Pinball Players. I plan to participate in several Major tournaments as well as continue to play pinball competitively. Getting to the top 25 ranked players in the world has been very difficult, however each tournament I grow as I meet more and more challenges from games and players. I have won several Open tournaments during 2011 however the leve of play required to win to many of these tournament require different skill sets. I am practicing on being a better player, I practice every week and look forward to showing the world of my accomplishments at the next tournament.
Joshua Henderson Is ranked top 10TH player in the USA and top 18th pinball player in the world at age 14 years old
Edit
April 1, 2012
Joshua Henderson is ranked top 10 pinball player in the USA and top 18th in the world at age 14 years old. Joshua has won first place in several tournaments in the last month and recently placed in the top 5 in a world pinball tournament with 273 players from around the world.--Joshuapinball 01:52, April 9, 2012 (UTC)
Ad blocker interference detected!
Wikia is a free-to-use site that makes money from advertising. We have a modified experience for viewers using ad blockers

Wikia is not accessible if you've made further modifications. Remove the custom ad blocker rule(s) and the page will load as expected.